NCAAB ACC Tournament Betting Preview (2022)
Mar 7, 2022 - 12:07 PM
The ACC had a surprisingly down year, as Duke entered last week as the conference's only team ranked in the AP poll. And until the final day of the regular season, the Blue Devils appeared as the league's only lock to make the NCAA Tournament, leaving several other teams to fight for their at-large lives this week. That alone should make the ACC Tournament very exciting, as does the narrative surrounding Duke head coach Mike Krzyzewski's quest for one last conference championship in his final season.
The ACC Tournament is uniquely structured to span five days, from Tuesday, March 8 to Saturday, March 12. The six lowest seeds will be in action on Tuesday, while the No. 5-7 seeds await the winners of those contests in the second round. The league's top four seeds receive a double-bye to the quarterfinals.
Here is how the bracket for the ACC Tournament looks.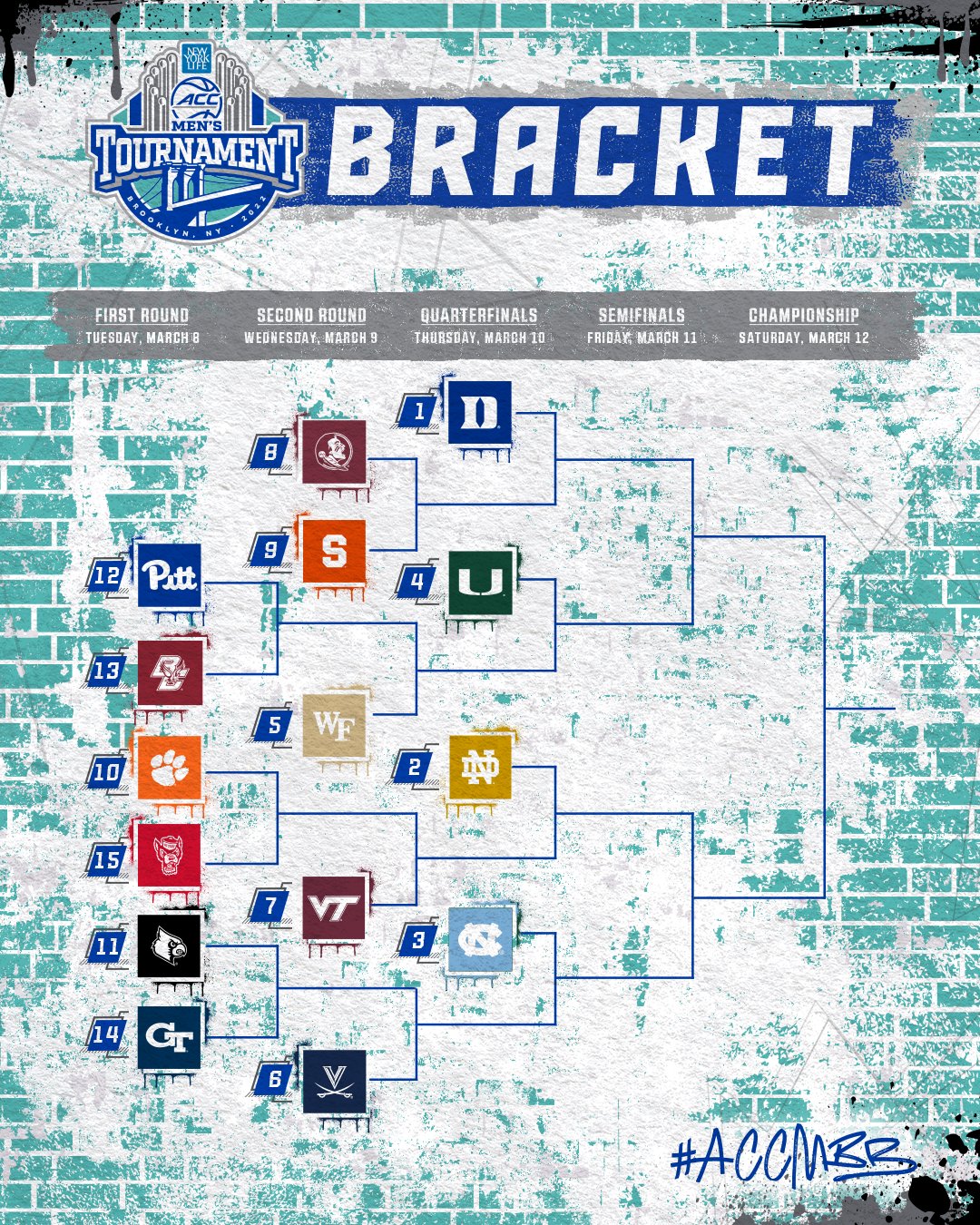 This article serves as a comprehensive betting preview for the 2022 ACC men's basketball tournament. Read on for the 2021-22 ACC standings, odds to win the ACC Tournament, and several teams to keep your eye on, from the favorites to a longshot. Be sure to check back on Saturday for our ACC Tournament Championship preview.
Compare odds from all major sportsbooks for College Basketball >>
ACC Conference Tournament
Dates: March 8-12
Venue: Barclays Center — Brooklyn, NY
Top Seed: Duke
Previous Winners:
2021 — Georgia Tech
2020 — N/A
2019 — Duke
2018 — Virginia
2017 — Duke
Odds courtesy of DraftKings Sportsbook
Favorite to Watch
Duke (-130)
Many will be hesitant to back Duke at this price, considering how poorly they played in the regular-season finale against North Carolina. However, before that loss, the Blue Devils were in consideration for a No. 1 seed in the NCAA Tournament. The fact is they dominated the ACC this season, which resulted in their first outright regular-season conference championship in 16 years.
Before their loss to the Tar Heels, Duke's four losses were by a combined nine points. Though they are just 4-4 SU in games decided by five points or less, they have the talent to beat anyone in the country, as evidenced by non-conference wins over Kentucky and Gonzaga.
Duke is ranked ninth in the NET, and its five Quad 1 wins are tied for the second-fewest of any team in the top ten. However, Duke's metrics are off the charts compared to their ACC competition. They are the top-ranked team in the ACC in both adjusted offensive and defensive efficiency (per KenPom). They are also the league's best offensive rebounding team, securing 33.1% of their misses in league play. Finally, Duke leads the league in effective field goal percentage defense and holds its opponents to a league-best 29.2% from the 3-point line in conference play.
We are not concerned about the Blue Devils' poor performance against North Carolina, given the pressure and distractions that came with sending off head coach Mike Krzyzewski with one final victory over their bitter rival. Duke is head and shoulders above the rest of the league, and their -130 odds are fair enough to back them winning three games in three days in Brooklyn.
Top Live Underdog
North Carolina (+800)
If one is not thrilled about laying -130 odds with Duke, getting +800 odds with the team that just beat them by 13 points in their own arena should be enticing. North Carolina is playing the best basketball of anyone in the league entering this tournament. The Tar Heels have won five consecutive games, none by fewer than seven points, and three of those wins came on the road. As long as Hubert Davis' squad does not get complacent after spoiling Coach K's Cameron Indoor finale, the Tar Heels have the talent to win this tournament.
North Carolina ranks in the top 20 in the country in adjusted offensive efficiency and the top 30 in 3-point percentage (37.4%). In addition, the Tar Heels are playing some of their best offensive basketball of the season entering the ACC Tournament, as they have averaged 88.7 ppg over the last three games. It took some time for transfers like Brady Manek (Oklahoma) to adjust to Davis' system, but the team is gelling at the right time.
Perhaps most importantly, North Carolina's win over Duke helped them secure the No. 3 seed, which means they would not face Duke again until the championship round. Virginia and Virginia Tech present arguably the biggest obstacle for UNC before the championship round. Still, the Tar Heels went 3-0 against those teams and won those meetings by a combined 34 points. And if they meet Notre Dame in the semifinals, we feel confident they would avenge a five-point road loss in South Bend from earlier in the season when the Tar Heels were not playing their best basketball.
Best Longshot Play
Syracuse (+5000)
Syracuse head coach Jim Boeheim is on the precipice of making history of the wrong kind. He has never had a losing season and will need at least two wins in the ACC Tournament to avoid that dubious fate. However, any coach will tell you his vaunted 2-3 zone is a menace to prepare for, and that makes his Orange a dangerous opponent in a tournament format.
Syracuse has lost four consecutive games, which is partly the reason for their long odds. However, those four losses were to the top four teams in the league. And outside of a 25-point home blowout loss against Duke, the Orange was very competitive, even pushing North Carolina to overtime on the road.
Between Joseph Girard, Buddy Boeheim, and Cole Swider, those three shooters can keep them in any game if they are hot. And all three of those players shoot at least 85.7% from the free throw line, which makes the Orange especially dangerous in close games.
Unfortunately, Syracuse does not have the luxury of a double-bye like the top four seeds do. But the school's proximity to the Barclays Center means there will be plenty of orange in the stands, making them a team no one will want to face this week.
Subscribe: Apple Podcasts | Spotify | Google Podcasts | Stitcher | RadioPublic | Breaker | Castbox | Pocket Casts
Whether you're new to sports betting or a betting pro, our How To Bet and Sports Betting Strategy and Advice pages are for you. You can get started with our Sports Betting 101 Section — including 10 Sports Betting Tips for Beginners — or head to more advanced sports betting strategy — like Key Numbers When Betting Against the Spread — to learn more.
Mike Spector is a featured writer at BettingPros. For more from Mike, check out his archive and follow him @MikeSpector01.
The post NCAAB ACC Tournament Betting Preview (2022) appeared first on BettingPros.
No one has shouted yet.
Be the first!
Related News